For nearly 20 years, Signode Packaging Systems has been one of the world's leading producers of stretch wrapping systems, including stretch film and application equipment. These systems, which may be used exclusively or in conjunction with strapping systems, help protect products from damage during handling, transit and storage.
We produce our own stretch films in a variety of types and sizes to be used with our full line of semi and fully automatic stretch wrapping systems.
Our sales, equipment service, customer service and engineering departments can help you design the optimum protective packaging system for your application.
Blown Films
Blown stretch film provides greater tear resistance, tension retention and scuff resistance than cast film, making it ideal for heavy industrial loads, irregular loads and loads with sharp corners.
Cast Films
Stretch Film
Cast film provides better clarity and gloss, and quieter film unwind than blown films. These characteristics make cast film a good choice for cube shaped loads, and loads that are used for display purposes.
Films are subject to continual development by Signode. To learn more about the range of possibilities currently available, please contact your local representative.
EconoWrap™ Stretch Film hand wrap film is specially formulated to stretch less than conventional hand application films for superior integrity on loads that shift during transit. This two-sided cling film is exceptionally tough and resilient and has minimal width reduction, providing superior load holding power at an economical price.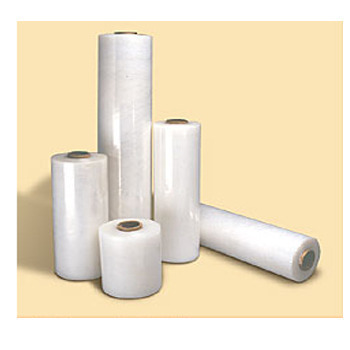 PermaStretch II™ hand wrap film is prestretched prior to being wound onto the core. This patented process maximises film strength and load holding power while minimising width reduction, roll weight and cost per load. When applied tightly, PermaStretch II performs a lot like machine applied, power prestretched films, giving it far greater load integrity than conventional hand application films that continue to stretch as loads shift during transit. Proprietary hemmed edges provide excellent film strength and tear resistance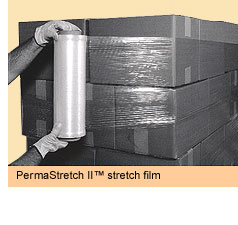 Signode high performance, machine grade stretch films provide both high strength and high stretch. They're specially manufactured to stretch up to 300%, depending on the gauge. This enables more pallet loads per roll to be wrapped, using less film, resulting in the lowest cost per load. With high performance film, the more it is stretched, the more the film recovers to hold loads tight and prevent product damage. To ensure optimum film performance, Signode high performance film should be applied at high prestretch levels by Signode power prestretch equipment. Our machine grade film line consists of one-sided, two-sided, differential cling and ultraviolet inhibiting cast and blown films.
Silent Tough One-Sided
This three-layer, one-sided cling blown film combines the strength properties of blown film with the silent unwind and clarity of cast film for superior performance.
Cast Film
Signode five-layer cast films provide excellent clarity and quiet delivery. Formulated with a state-of-the-art resin mixture, this "true" one-sided cling film eliminates loads sticking together in transit, while providing excellent strength at prestretch levels up to 300%. The high clarity of cast film makes it an excellent choice for applications using bar code scanning equipment.
Ultraviolet Film
Signode ultraviolet-resistant one-sided cling blown films are specially formulated to resist damage from ultraviolet light and guaranteed to last up to one year in strong sun. In contrast, non-UVI films deteriorate outdoors in about four months. Both blown and cast films are available with UV additives.