SUN AUTOMATION CORRSTREAM
CorrStream® Digital Printer Series
True Industrial Inkjet dedicated to the corrugated industry
Robust, reliable, and consistent
At ZETI d.o.o. we are distinctively working towards pushing the limits of the corrugated market and introducing new technologies to our customers. Several years ago, we started working with SUN Automation and exclusively marketing their Digital Printer CorrStream.
Today, CorrStream represents our top single pass digital printer equipped with high-end SUN feeder as well as the best-in-class stacker. Combined with SUN's leading industry knowledge and the dedication to work with the customer as a long-term partner, we are happy to follow your digital investments step-by-step and support you along the way of becoming the industry leader in digital printing.
SUN's CorrStream offers three distinctive models based on your printing width: 20, 40, and 66 series. Please refer to the attached brochure for more information.
Series 66 is SUN's flagship model and widest machine. With print widths of up to 1345 mm and capable of 1600 mm sheet width (3000mm length) this printer is designed to offer the complete solution to corrugated convertors worldwide at conventional sheet per hour speeds.
What

is

Corrstream

®

?
High Output Single Pass

,

Drop On Demand Industrial Inkjet

Dedicated

to

corrugated materials and papers

CMYK with Aqueous Inks

High

,

Consistent

output

–

typical M2 of sheet = 4200 passes per hour

*

3 machines in the Series

–

20

,

40 and 66


–

Corrstream20

;

557mm (1000×1600 sheet)


–

CorrStream40

;

783mm (1000×1600 sheet)


–

CorrStream66; 1345mm (1600

x

3000 sheet)

A Workflow solution supporting Box Plants in establishing Studio and Proofing services via our dedicated Corrstream Pro software

,

including colour

management 

with Corrstream Dynamic Colour Range (DCR) technology
Applications
Box plants looking to migrate their low to medium volume orders away from analogue print methods
Box plants looking to offer their market variable data, QR/AR print, On-Demand and next day delivery
Box Plants looking for an alternative, efficient and low-cost printer to analogue
Merchants & Distributors – hold die cut blanks and print to order!
Packer Fillers – bulk purchase plain packaging and print the quantities required when required!
Sun's modular design solutions allow you to create a full digital production line. By offering a full width rotary die-cutter adjacent to the 66 series printer you will revolutionize the design to box to shelf lead-times.
Also includes "Cut2Print" technology
All CorrStream digital printers for corrugated are modular designed allowing users to add and develop as they grow their digital packaging sales. SUN has also carefully "future proofed" each platform to allow wider Print engine application at a later date without the cost of purchasing a complete machine.
Versatility, Productivity, and Quality
The CorrStream series of digital printers are designed and built for the corrugated sector.
They combine established inkjet technology with proven SUN Automation feed and corrugated material handling expertise.
CorrStream is the frst digital printer to bring the familiar machine set-up of continuous lead edge feeding, printing, and delivery to box converters.
Single Pass, simple to use, low maintenance and backed by SUN Automation Service assurance, CorrStream represents the frst truly industrial digital press to enter the corrugated sector.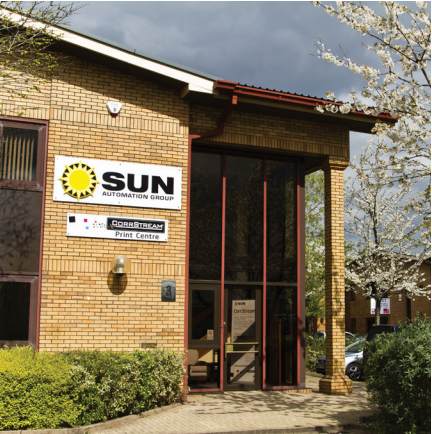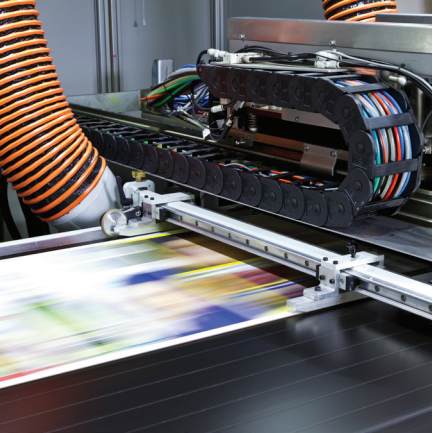 New Opportunity for Added

value

–

Revenue
More

colour and

high graphics

Increased

opportunity for versioning

,

seasonal
and variable

print

Greater flexibility

and press utilisation

Consolidate

customers

with the ability

to


"

combine

"

Packaging promotions

Seek new

markets in

B

2B

,

B2b and

B2C (

online

)

Brand Portal

Governance

and

Colour Management
Quality, Colour, & Cost Control
CorrStream® re-invents how box plants create
value on existing and new product sales
Introducing CorrStream®: Dynamic Colour Range (DCR) technology, from SUN Automation. The latest inkjet systems are used to provide the ability to control quality and colour consistency with the most efcient ink usage possible.
Simply, this technology provides all the solutions corrugated packaging convertors require – high productivity at the right quality, colour consistency and print costs.
Providing precision and control at all levels of the workflow over tone, clarity, colour and coverage.
The result – quality and flexibility with low ink costs.
The ultimate in versatility, quality, colour control and ink costs per sheet can now be combined to ensure increased return on your existing and future box sales.
CorrStream, combined with the power of DCR technology, finally places digital printing at the forefront of any box makers capabilities.
Dedicated to the Corrugated Convertors
Coated Inks available end 2014

Corrstream Pro RIP; Pre Press and Colour Mgt

Management dedicated to existing and future corrugated paper stocks

Sun Automation 100% Guarantee and peace of mind with our full Service & Maintenance Package

Head Life Assurance and Future Proofing

Introducing "Cut2Print" technology