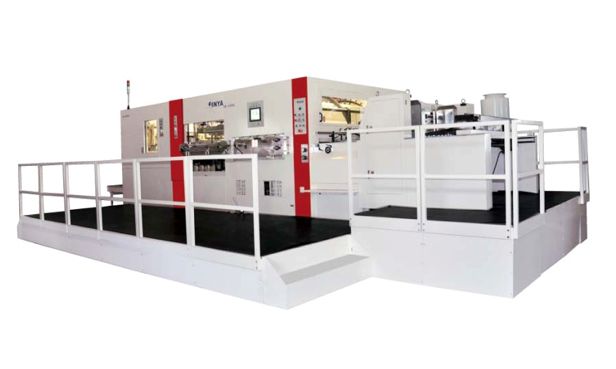 Jinya SR-1650-SL
Fully Automatic flatbed die-cutter with long lead-edge feeder
The ZETI-TECHCUT fully automatic flatbed die-cutting machine SR-1650 series is manufactured by Taiwanese based and founded Jinya Machinery Company, a professional manufacturer of fully automatic die-cutting, creasing, and stripping machines.
Production of the SR-1650 series began in February 2006 at the assembly plant in Shanghai, China using parts and technology manufactured in Japan and Taiwan. The Taiwanese head engineer, who is also the main designer of the SR-1650 series, has more than 30 years of experience in the design and manufacture of automatic die-cutting & creasing machinery. He has been designing, building, and constructing high performance die-cutting machinery throughout his career and holds innovation solutions and patents for continuous development, innovation, and improvement of die-cutting technology.
ZETI and Techcut, Jinya's development partners and distributors, are known to exceed customer demands for corrugated machinery through innovation, quality, integrity and customer service. Our products, known for their quality and reasonable pricing, are highly recognized and praised among industry professionals. We are available 24/7 for our customers and offer fast and efficient customer service, machine maintenance, and repairs. Our spare parts stocks are located at convenient locations in Germany and Croatia, reducing the amount of lead time for spare parts orders.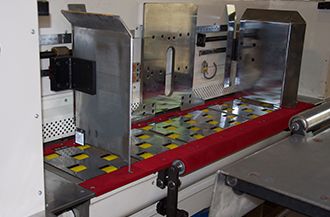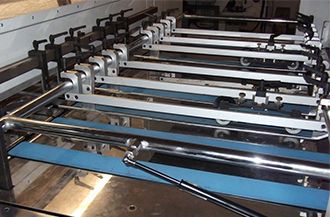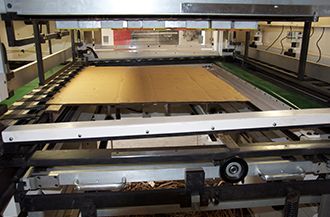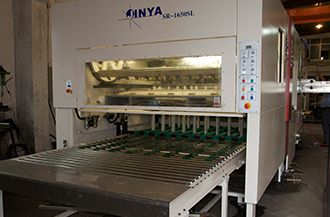 ZETI TECHCUT SR-1650-SL 
Fully Automatic flatbed die-cutter with long lead-edge feeder Jinya SR-1650-SL
All machines comply with European safety certificate (CE).
Specifications

Max. sheet size

1650 x 1200 mm

Min. sheet size

650 x 500 mm

Max. die-cut size

1630 x 1180 mm

Inner frame width

1660 x 1210 mm

Board strength

0.7 – 9.0 mm thickness (A, A+B, B, C, E, F, G – Flute and laminated board, solid board until min. 300 gr/m²)

Min. width of side waste edge

10 mm (depends on product arrangement, paper and operation)

Min. gripper edge width

6 – 12 mm

Linear die-cut height

23.8 mm

Max. mechanical speed

5000 strokes/hour

Max. die-cut pressure

450 tones

Total power requirement

32 KW (Main motor: 18,5 KW, frequency speed control), 400 V, 50 Hz

Air pressure

6 bar

Scope of pressure adjustment

± 1.5 mm

Dimension

9600×3070×2458(L×W×H)

Net weight (without stage)

33 tons

Gross weight

37 tons

Machine options include: regular lead-edge feeder, top feeder, pallet delivery and twin set-up
Main applications of the SR-1650 series fully automatic flat bed die-cutting machine include high quality flexo-printed or laminated corrugated sheets requiring die-cutting for mass applications, such as large food packaging, beverage packaging, appliance and electronics packaging, etc. The machine is perfectly optimized for production of convenience food boxes, "American boxes," electronic packaging boxes, and cushion packaging, e.g. corrugated milk boxes, beer cases, pizza boxes, etc.
With its large operation dimension of 1600x1200mm, the SR-1650 series can produce two boxes in the same die-cutting process based on box size, e.g. two standardized convenience food packaging boxes. Highest mechanical speed at 5,000 sheets per hour allows full speed production with precise die-cutting at +-0.5mm margins, and significantly improves efficiency while reducing required personnel and electricity consumption. Innovatively designed lead edge feeder represents cutting edge technology in avoiding cardboard warping, arching, and upward bending. It is capable of stopping the machine at any time to prevent risk of collisions, pile-ups, and jams. The guaranteed cutting pressure of 450 tons enables perfect die-cutting quality for most complex applications at high speeds.
At completion of machine assembly and before shipment from factory every machine is quality controlled by its designers and must pass a special mechanical test. For the mechanical testing fully printed black varnished corrugated cardboards are used to ensure full surface protection of painted sheets including avoidance of any scratches or damages from feeding wheels. Complete production process is optimized to ensure maximum quality at highest customer satisfaction with every part of the machine.