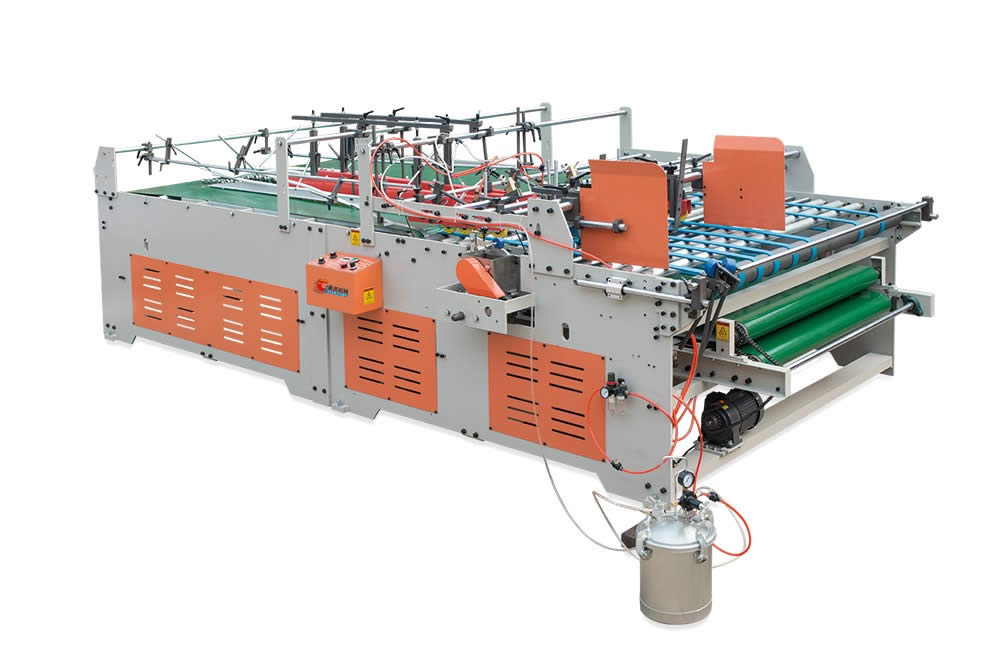 Semi-automatic gluing machine
Starglue SE
You are a converter of corrugated board and are in need of an affordable solution to improve your gluing efficiency for small order quantities? You are looking to expand into the corrugated market and your batch and order quantities include a lot of manual gluing? You want to reduce the amount of manual gluing at your large plant? – ZETI Star Glue is the machine for you!
Description:
Machine is suitable for board and box folding and gluing. Achieving the combination of automation and manual work.It includes feeding, film grinding, folding, as well as bottom and side gluing of the box. Bottom and side gluing of the box. Easy operation and high efficiency.
Easy operation and high efficiency represent the machine top advantages.
The belts adopt the rubber material with holes which make conveying stable. Feeding shaft is made of thick wall steel ensuing the concentricity.
The surface of the shaft is specially phosphated for anti-rust. Feeding system uses belt conveyors supported by side and back aligners.
Conveyor part uses a PVC belt in combination with pressing rollers and photoelectic sensors. Machine stops for safety if the sensor detects a stuck sheet and requires the operator to remove the defect sheet after which the machine will restart its operation.
For bottom locking the machine adopts long rails to fold the box. It is easy for adjustment and operation.
Pressing part adopts up and down belt structure. Using thick steel pipe support, the speed of pressing can be adjusted by a push of a button.
Machine can grind UV and film coated boxes. The grinding speed can reach 2800 circles per minute. When the box goes through the machine, it can grind the surface of the box.
Additional details:
Machine complies with European safety certificate (CE).