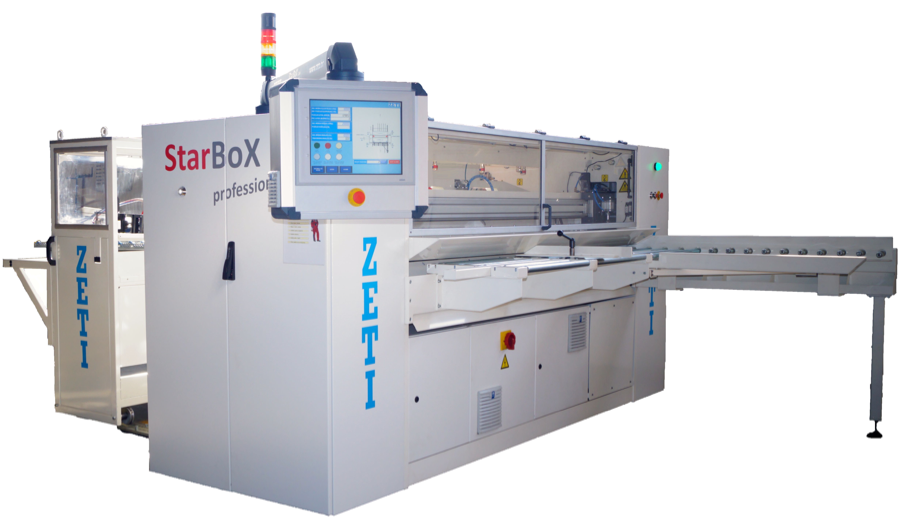 Zeti StarBox 2.4
BOXMAKER with more than 100 FEFCO Design Codes
Industrial PC with touch screen controls the machine sequences over the specially programmed PLC
Automatized mechanics allow for fast order changes
Orders are programmed in a special window for order input and can be saved into the built-in order memory saving set-up times for repeating orders (especially important for small orders)
PLC is controlling the machine status
Direct access to the internet allows connection to the ZETI support center and maximum production support
Speed of 750 sheets per hour dependent on the particular order represents one

of

the

fastest

boxmakers
Even higher productivity can be achieved

with

conversion

of 

multiple boxes simultaneously out

of

one sheet:


•

two

–

three boxes parallel
• unlimited number

of

boxes one

after

the other (sheet length 

limit)

Untouched edge allows the

usage

of large sheet

dimensions, optimizing

sheet purchase and storage

Waste optimization: untouched

edge

can be used for other orders

Ability

to use sheets that are

damaged

on one side

by converting them 

into boxes and

simultaneously cutting off

the damaged edge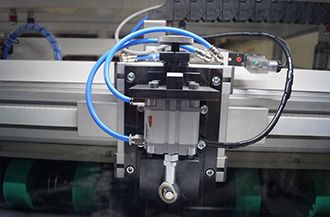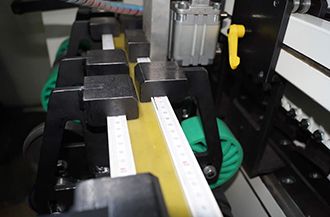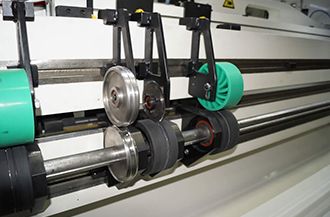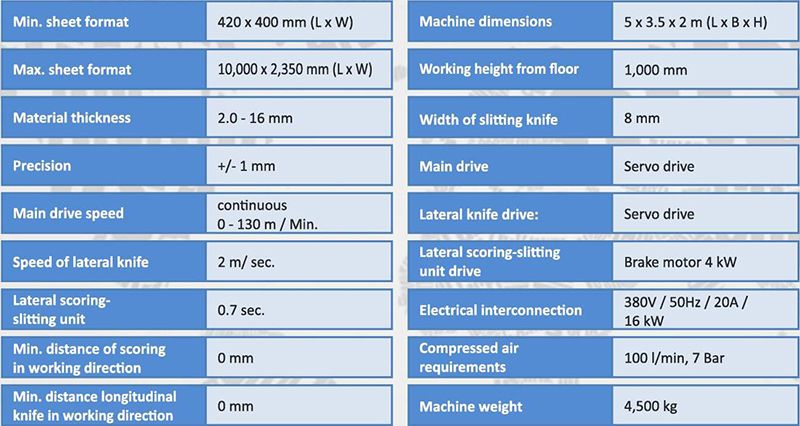 StarBox 2.4 Professional : Working Logic (in basic equipment)
Workers are manually feeding corrugated board in the machine. The feeding reel takes over the sheets and positions them computerized, fully automatic, very precise, and fast for the individual work segments and tools. Cutting edge PLC program is controlling the main drive as well as tools and other functions, which are set up for optimal work flow. This set up enables simultaneous or individual workflow of different machine functions saving time and increasing the manufacturing speed by regulating the production at high speeds without loss of precision. Modern and simple machine controls through touch screen unit and work memory computer for order savings enable input and controlling of all work flow sequences over the industrial PC, allowing fast order changes, efficient follow up on all production steps, as well as machine status tracking. Connection of PLC program over a direct and safe Internet connection with the ZETI Support Center ensures maximum technical support and production safety. Completed sheets leave the machine through
our specially designed delivery wagon to the machine operator. The delivery wagon is mounted on tracks enabling fast, safe, and efficient entry to the machine as well as fast and easy order changes and simple maintenance. In addition, the wagon holds a large storage space for tools and equipment.
ZETI StarBoX 2.4 professional boxmaker is always delivered with European safety certificate CE.
The serial version of the machine is backwards compatible and ready for upgrades of additional equipment in the future enabling fast and easy upgrades with new tools and equipment.